In preparation for the CHAN [African Nations Championship] Qualifications, the Tafel Lager Brave Warriors, will face off against their counterparts, south of the Orange-River, South Africa's Bafana Bafana, in an international friendly on Saturday, 9th September 2023 at a stadium in Johannesburg, still to be confirmed.
The Tafel Lager Brave Warriors reported for camp on Sunday, 20th August and their first training session commenced on Tuesday, 22nd August 2023 at the NFA Technical Centre.
The Team will train twice daily, Monday to Friday, from 08H00 to 10H00 and 16H00 to 18H00, and on Saturdays, from 08H00 to 10H00.
The squad will be strengthened by the return of skipper, Ronald 'Stigga' Ketjijere, from retirement and Petrus "Dancing Shoes" Shitembi.
Collin Benjamin, said that the international friendly against Bafana Bafana will be the only competitive match preceding Tafel Lager Brave Warriors' crucial CHAN Qualifications.
"There are a couple of players missing from the squad at present, however, I believe that by next week, we should have all the local-based players in camp," he mentioned.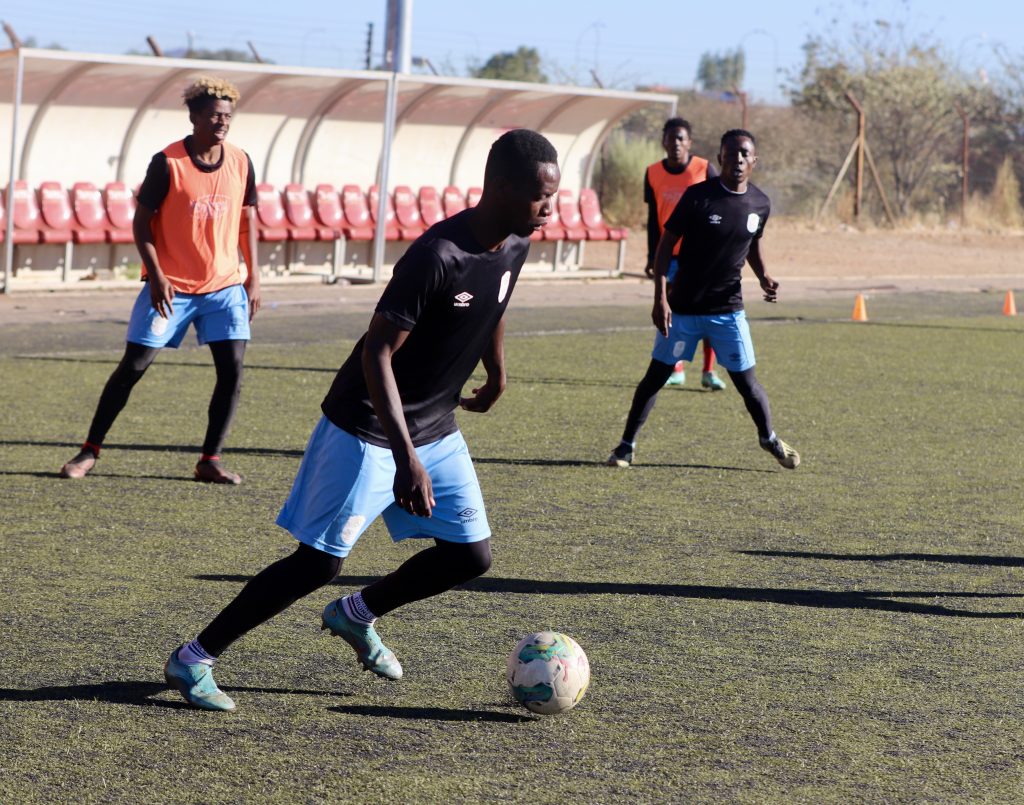 Three training sessions focused on monitoring players' fitness levels and working hard to attain the desired fitness and match fitness levels to guarantee maximum performance outcomes for the envisaged international friendly against South Africa.
"We have included a couple of experienced foreign-based players whom I believe, blended with our local stars, are more than capable to discharge their assignment against our neighbour with distinction," Tafel Lager Brave Warriors Head Coach, Collin Benjamin concluded.
The Team consists of:
Goal Keepers: Loydt Kazapua, Kamaijanda Ndisiro, Jonas Mateus, Mervin Kasetura, Immanuel Immanuel.
Defenders: Ryan Nyambe, Ivan Kamberipa, Erasmus Ikeinge, Kennedy Amutenya, Charles Hambira, Given Mutuezu, Denzel Haoseb, Utjevera Rukata, Annanias Gebhardt, Riaan Hanamub, Tuli Nashixwa, Aprocius Petrus, Brandon Neibeb.
Midfielders: Reverend Matroos, Devin Somseb, Ngero Kaanjuka, Paulus Amutenya, Ronald Ketjijere, Uetuura Kambato, Lawrence Doeseb, Dynamo Fredericks, Marcel Papama, Prins Tjiueza.
Forwards: Peter Shalulile, Absalom Iimbondi, Betheul Muzeu, Alfeus Leev, Romeo Kasume, Deon Hotto, Wendell Rudath, Joslin Kamatuka, Edmar Kamatuka, Erwin Tjiuja, Eliakim Jaddson, Petrus Shitembi, Tjipenandjambi Karuuombe, Simon Elago, Nehemia Ndengu.