Namibian Coach Educators, Willem Kapukare and Shakes Mallembu are in South Africa for a five-day FIFA/CAF Coach Educators Development Programme. The course started on Monday, 16th October and will conclude on Friday, 20th October 2023. Fifteen (15) Coach Educators from the Cosafa Region will go through adult learning principles, participant theory and practical delivery and feedback.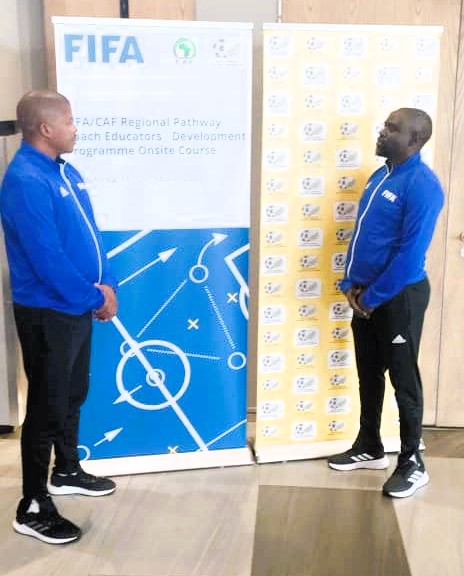 "It's a vast programme, tailored to each member association, in which we take the right measures for everyone, for the long term. It's our main message: talent development is not something that there's a quick fix for. You need patience, sustained investment and staying power," said Steven Martens, FIFA Director of Global Football Development.
"In the FIFA Coaches Development Pathway, we work with people capable of developing coaches in their own countries."
"The pathway that we are suggesting to the three 2026 FIFA World Cup host nations involves making sure that there are enough high-level coach educators to ensure that all of the kids and youngsters playing our sport, girls and boys, have an excellent coach and a great experience," he explained.
"Our ambition is that by 2026 when the World Cup is held here, every country in the world will have its own coach development pathway."
Kapukare has been the lead Instructor in the NFA-C License Coaching Courses conducted by the NFA country wide this year while Mallembu served as a Coach for the Junior Men's National Team.
FIFA Instructors Zunaid Mall, Mohamed Basir, Jose Galves and Frans Mogashoa are facilitating the course