The Debmarine Namibia Premiership kicked off in style last month, with a series of exciting matches and outstanding performances.
In Round 1, defending champions, African Stars faced off against Orlando Pirates at the Hage Geingob Stadium, where Stars clinched a 2-1 victory with goals from Yousouf Ibraihim and Willy Stephanus, while Sadney Urikhob scored for Pirates.
Blue Waters took on newly promoted team, Okakarara Young Warriors at Vineta Stadium, securing a 3-1 win. Tuhafeni David, Steven Damaseb, and Andjego Lasarus found the net for Waters, while Utjevera Rukata scored for Okakarara.
Meanwhile, Julinho Sporting FC and Life Fighters played to a goalless draw at the Rundu Sports Stadium.
Nau-Aib Stadium witnessed UNAM FC's 1-0 victory over Okahandja United, with Paulus Amutenya scoring the lone goal of the match.
In another exciting fixture, FC Ongos emerged victorious with a 2-0 win over Young African, courtesy of Kleopas Useb's brace.
Khomas NamPol defeated Young Brazilians 2-0, with goals from Prins Rivaldo and Melvin Eiseb and Tigers FC secured a 1-0 victory over Civics FC, with a goal by Emanuel Ampofu.
A fully packed Oshakati Independence stadium cheered on as Eeshoke Chula Chula FC recorded a 2-1 win against Mighty Gunners, with Augustus Shipalanga and Hosea Simeon finding the net, while Roberto Rugam scored for Gunners.
An interesting note from the Premiership rounds is the performance of newly promoted team, Khomas NamPol, notably, former Tigers' captain Absalom Iimbondi's impact as a key player.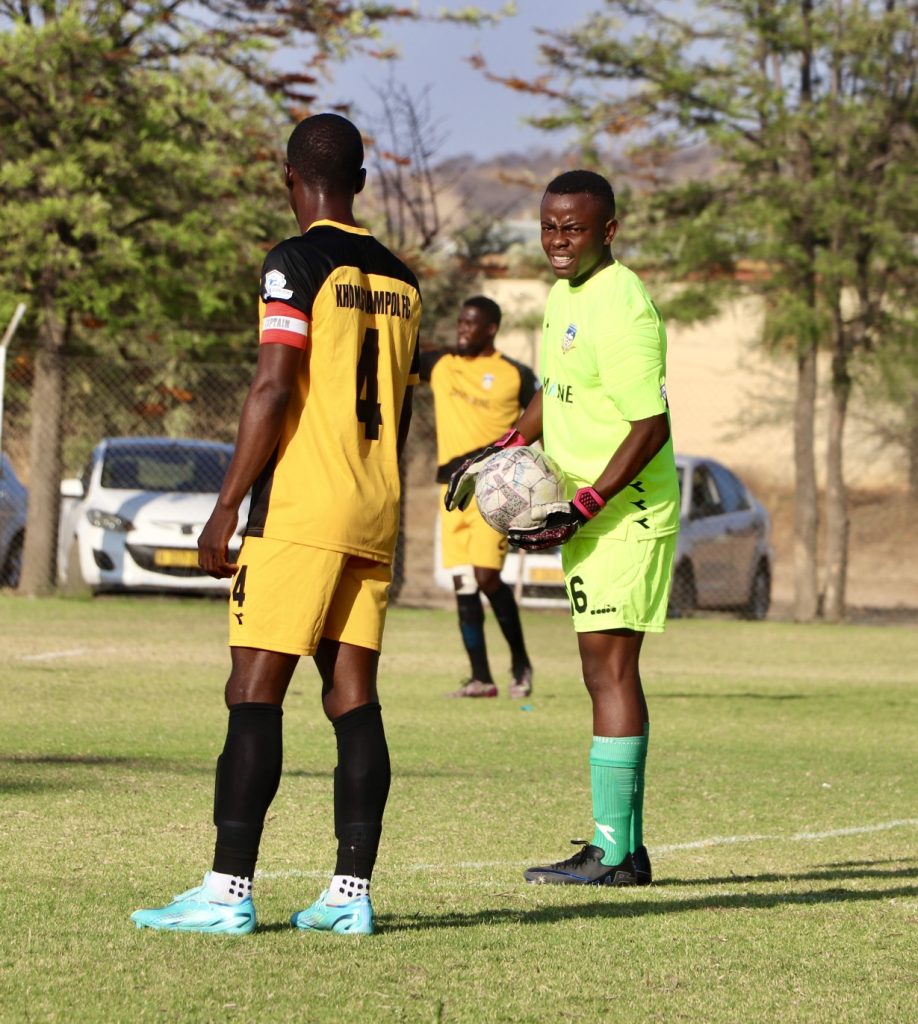 The SKW Stadium was alive with football action as Round 2 of the Debmarine Namibia Premiership unfolded with Tigers FC facing off against Khomas NamPol FC in a highly competitive match that ended with a 2-1 scoreline. Emanuel Ampafu netted one for Tigers FC, but it was Absalom Iimbondi, who stole the show with a brace for Khomas NamPol FC.
NamPol have scored seven [7] goals in three [3] league matches played, and recorded three [3] victories with a solid defensive display securing them 2 clean sheets.
UNAM Stadium witnessed UNAM FC's dominance as they defeated Okakarara Young Warriors FC with a 5-1 victory. Paulus Amutenya, Friedemann Goraseb, Donaldson Makaru, and a brace from Godwin Eiseb sealed the win for UNAM FC, with Deon Gariseb scoring the lone goal for Okakarara FC.
Civics FC faced Young Brazilians in another action-packed match at the SKW Stadium, where the home team secured a 3-2 victory with goals from Jairus Tongan, Trevor Ricardo, and Griffin Isadore, while Karel Wisely and Vincent Jobs found the net for the Young Brazilians.
African Stars FC triumphed 2-0 over Young African FC at the Hage Geingob Stadium, thanks to a brace by Willy Stephanus. At Nau-Aib Stadium, Okahandja United FC edged out Blue Waters FC 2-1, with Aggrey Mundenda and Gerland Kaengurora scoring for Okahandja, and Erastus Kulula finding the net for Blue Waters.
The match between Julinho Sporting and Eeshoke Chula Chula was postponed.
In the 3rd Round's highlight match, FC Ongos emerged victorious after edging African Stars with a narrow 3-2 scoreline.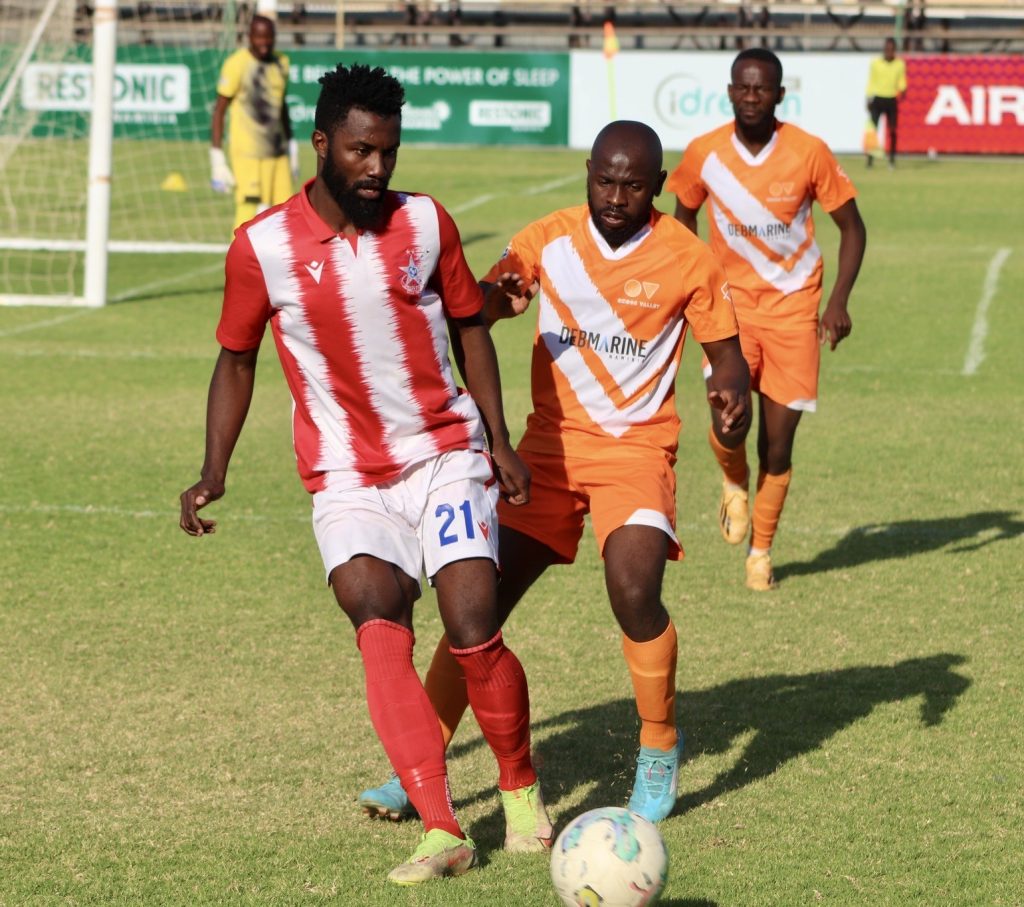 Ongos' Nikodemus Haikali and Tjinge Kapundjiri scored, and an own goal by African Stars' defender, Emilio Martin, further added to Ongos' tally. African Stars fought back with goals from Angelo Kuezi and Youssouf Ibroihim, but ultimately fell short.
Tigers triumphed over Young Brazilians to secure a 2-1 victory with goals from Quinton Kuruseb and Image Isaaks, while Quinton Van Staden responded with a goal for Young Brazilians.
UNAM FC faced a setback at home, as they were defeated 1-2 by Blue Waters FC. Paulus Gideon gave hope when he scored for UNAM FC, but it was not enough to overcome Blue Waters', as Steven Damaseb and Isaskar Gurirab found the back of the net to secure a victory for Blue Waters.
Khomas Nampol continued their winning form as they dominated Civics with a 3-0 win. Absalom Iimbondi, Erick Tsam, and Prins Rewaldo were the goal scorers for Khomas Nampol.
Okahandja United emerged victorious with a 2-0 win over Okarara Young Warriors. The star of the match, Gerland Kaengurova scoring both goals for his team to secure a well-deserved victory.
Orlando Pirates were to take on Young African, Julinho Sporting to face Mighty Gunners, and Life Fighters to clash with Eeshoke Chula Chula in postponed Round 3 matches.
Topping the goalscorers' list is Afrcan Star's Willy Stephanus with 4 goals, followed by Gerland Kaengurova and Absalom Iimbondi with 3 goals each, Youssouf Ibraihim, Steven Damaseb, Roberto Rugam, Rivaldo Prins, Paulus Amutenya, Kleopas Useb, Godwin Eiseb and Emanuel Ampofu, each with two goals.
Rounds 4 and 5 will continue this weekend at SKW stadium in Windhoek, Mokati,stadium in Otjiwarongo, J.Stephanus in Keetmanshoop, Vineta Stadium in Swakopmund, Nau-Aib in Okahandja and Oshakati Independence Stadium in Oshakati, promising to treat fans to an entertaining display of Namibian football!